Business Solutions
What is GSM Terminal?





The GSM Terminal or Gateway (also Fixed Cellular Terminal, Fixed Wireless Terminal, Cellular Gateway) is a device that enables any user to save money on calls from fixed phones to GSM networks. (For information about 3G - UMTS Gateways click here.)

Generally speaking, mobile-to-mobile calls are cheaper than fixed-to-mobile calls. You can imagine the GSM Gateway (FCT) like a "mobile phone", through which all company calls go to mobile networks.

Having one or more SIM cards installed in the GSM Gateway (GSM Router, FCT), you can make mobile-to-mobile calls instead of fixed-to-mobile ones. Obviously, these devices are much more sophisticated and provide a lot of useful features and options such as sending SMS, sending fax messages, etc.




Cellular GSM Terminal re mostly used as:



- Cost saving tool
- Equipment for call (gsm) termination
- Internet back-up
- Possibility to be connected to the internet in distant areas
- Tool for sending and receiving SMS messages

Types of GSM Terminal:

a) EasyGate
b) SmartGate (DISCONTINUE)

Dear friends and partners,
let me introduce you the 2N TELEKOMU- NIKACE joint-stock company, which has been a symbol of stability and prosperity on the telecommunications market for 15 years. Thanks to hard work and advanced know-how, we have not only reached remarkable success in the Czech marketplace but also gained ground as a leading telecommunications supplier worldwide. www.2n.cz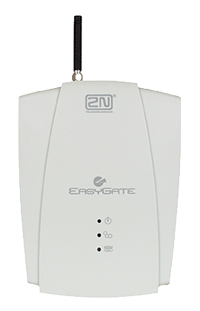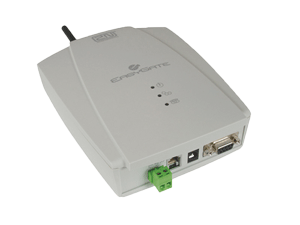 2N EasyGate
2N EasyGate is a NEW type of Analog GSM Gateway (Fixed Cellular Terminal) from 2N's portfolio. Because of its features it is suitable for small companies, which use it for saving costs of calls to GSM, SMS sending and GPRS Internet connection.

The analog 2N EasyGate gateway has been designed not only for Voice transmission between your PBX and GSM networks, but also for Data, SMS and G3 Analog Fax transmission (Optional).

Using this gateway you can cut half of your company telephone bill since all calls directed to GSM networks are routed through 2N EasyGate and extortionate bills for the PSTN-GSM connection are avoided.

The 2N EasyGate is not only a tool for call cost reduction as it can provide other communication solutions such as sending and receiving SMS and Analog fax messages, thanks to the GPRS you can browse internet and send e-mails, thanks to the FSK feature you can see the calling party on the phone (if supported by the telephone) - all these features are supported by the 2N EasyGate GSM Gateway.

Serial port for GPRS connection enables e-mail communication and Internet browsing. These means of communication are widely used on boats and in distant areas.

Installation, supervision and maintenance are other eminences of the 2N EasyGate GSM Gateway. In case you use prepaid SIM cards, you obtain automatically SMS message about low credit on the SIM card. Other smart feature which is highly appreciated is a periodical gateway status SMS message, which informs you about the current signal, number of calls, etc.
EasyGate PBX Connection with replace PSTN line for Fixed Mobile cost saving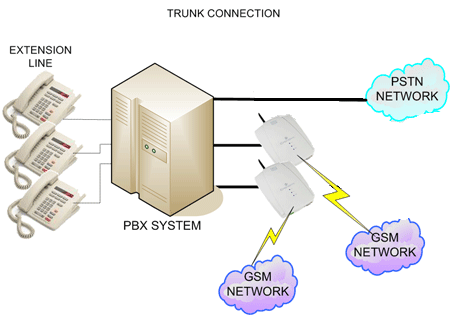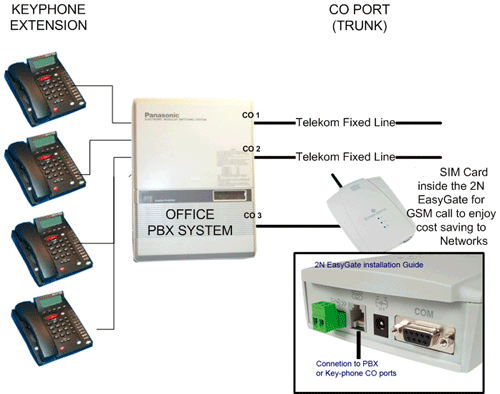 Downlaod EasyGate Brochure, click here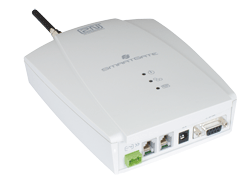 2N SmartGate DISCONTINUE
Analogue GSM Gateway with a Mobility Extension and DialThru functions and G3 Fax support

2N SmartGate is a single-channel Analogue GSM gateway, which provides a number of services for cost efficient way of communication. It is intended for small size companies and households and its main objective is to save the users a lot on GSM call costs. 2N SmartGate can be connected to a PBX, to a standard telephone set or to PC (LAN) and can be used for Voice, Data through GPRS, SMS and G3 Analog Fax transmission (optional).
2N SmartGate PBX connection with DialTHRU function to capture 100% cost saving on GSM Call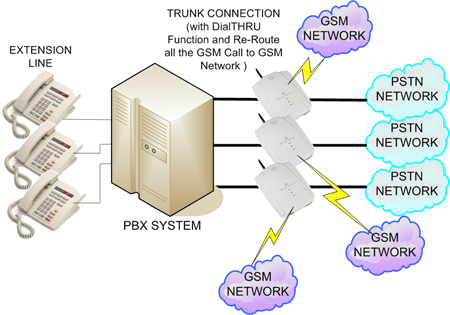 Example of Small & Medium Office Setup with 2N SmartGate (Total Solution with SMS Application)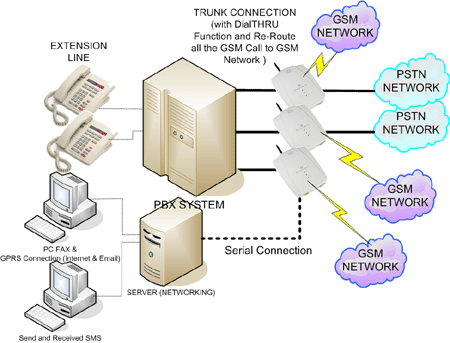 Downlaod SmartGate Brochure, click here